A census-designated community in Texas, The Woodlands got its name because it was developed in and
around 28,000 acres filled with trees. It was created as a master-planned destination, the special-
purpose district is in the Houston – The Woodlands–Sugar Land metropolitan statistical area. Primarily
in Montgomery County, but sections of the community extend into Harris County.
Call Today: 346-263-3439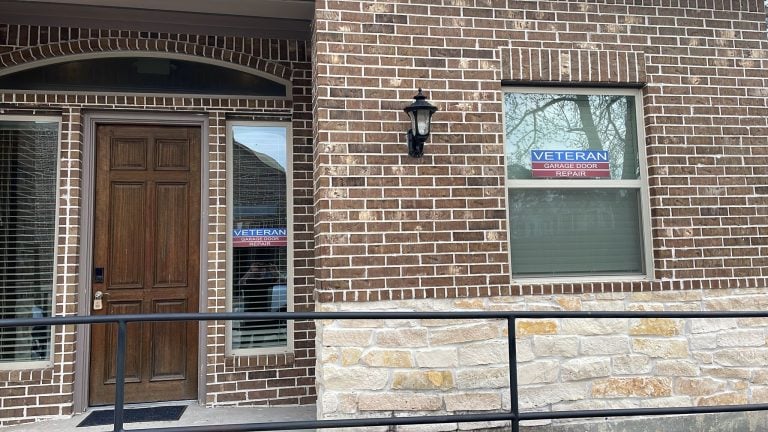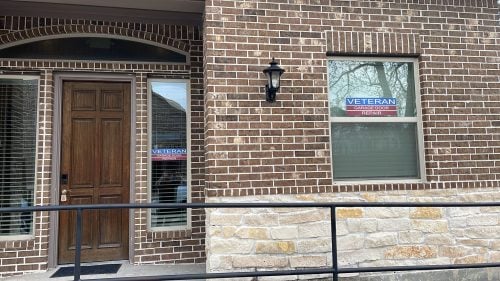 As of the 2020 census, The Woodlands had a population of 114,436 people, and the Howard Hughes
Corporation estimated the population to be about 119,000. It is located 28 miles north of Houston off
Interstate 45. Started as an exurban development and bedroom community, The Woodlands has also
attracted business and is the home of several corporate campuses.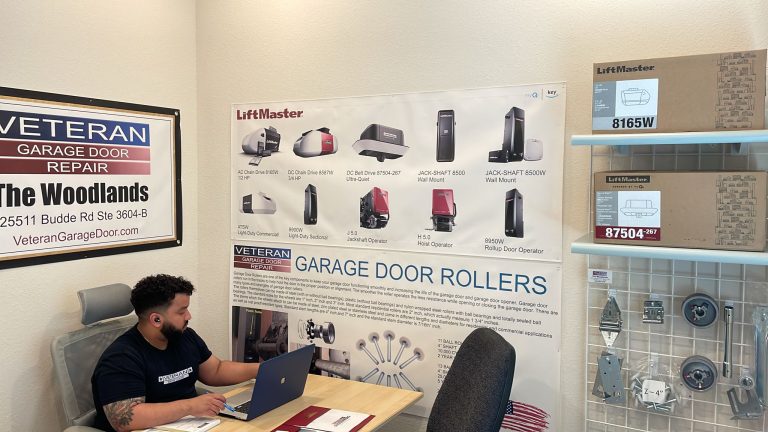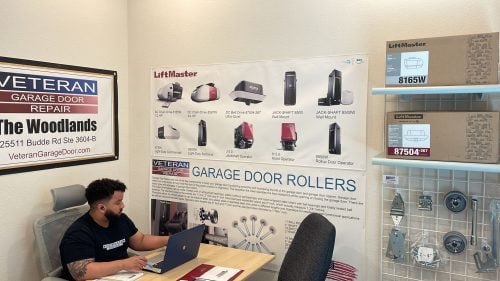 The Woodlands, TX Full-Service Garage Door Repair
If you are experiencing garage door issues in The Woodlands, you can depend on Veteran Garage Door's
team of professionals to promptly and properly address the issues. With the capabilities to handle any
garage door problem – regardless of its complexity or simplicity – you can rest assured that the job will
be done to specification.
Here are some of the more common garage door repairs in The Woodlands we handle:
 Garage door opener repairs
 Repairing loose chain belts
 Gear sprocket repair
 Programming of vehicles for garage door openers
 Broken hinge replacement
 Programming remote keypads
 Garage door cable repair and replacement
 Sensor replacement
 Bent tracks
 Noisy garage doors
 Doors off-track
 Capacitator repairs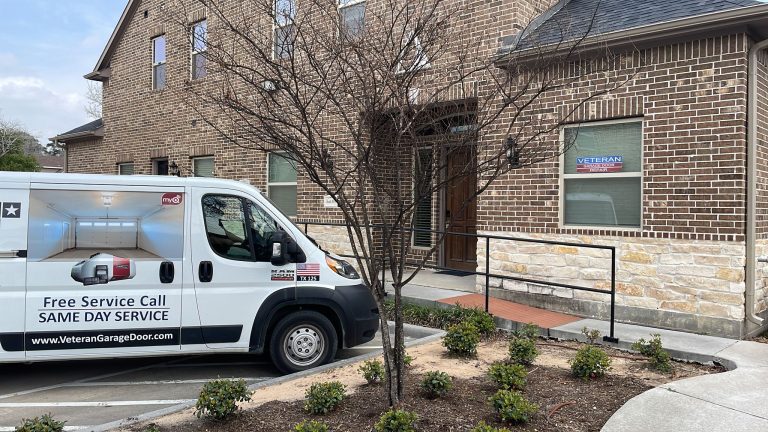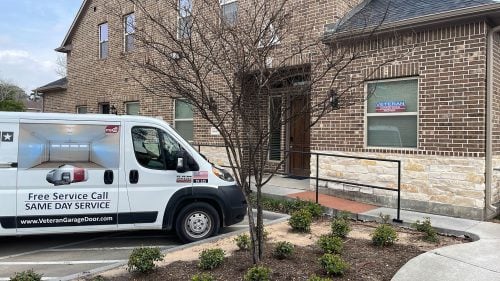 We can take care of any garage door opener or garage door issue. Veteran Garage Door of Baytown has
the capability to address any – and all – garage door needs. When a technician is dispatched to your
location, a technician will bring all the needed tools and equipment to fix any problem. With the training
and skills needed to handle all garage door issues, you can rest assured that the job will be done right.
Veteran Garage Door The Woodlands Stands Out
Striving to provide quality workmanship as well as top-notch customer service, Veteran Garage Door in
The Woodlands goes a step above and beyond to ensure the job is done right. We have a team of the
most experienced garage door professionals in the area. We know we must work to earn your business,
so we work to keep it as well. Our goal is to become your go-to garage door repair service.
We also understand that a garage door emergency is just that – an emergency. We offer 24/7 service
every day of the year. When you call us, our dispatchers will promptly send someone to your location to
address the issue. We also arrive at the scheduled time. We understand that your time is valuable, and
we also understand that you want the problem resolved as quickly as possible.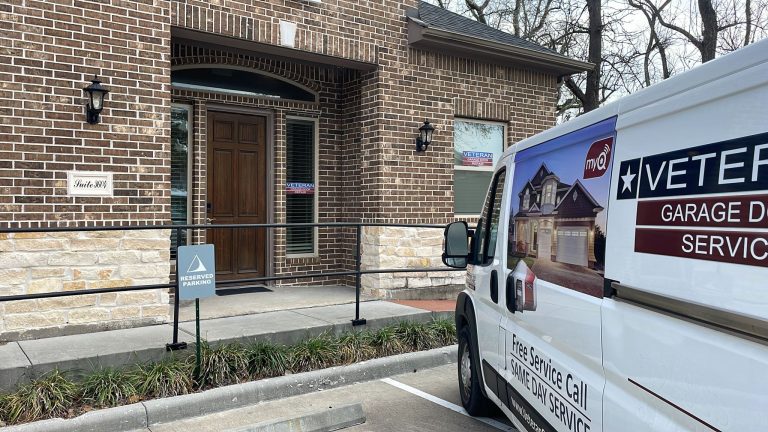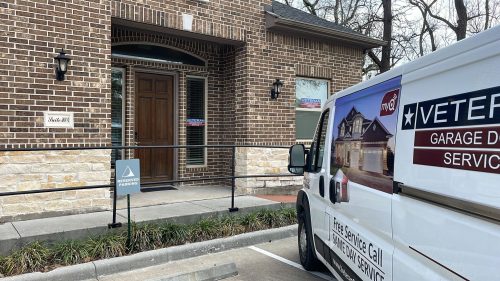 Our team services all makes and models, and we dispatch technicians in trucks that contain parts,
hardware, and all the necessary tools to tackle the job. Our technician will arrive ready to the job, so you
can rest assured that the problem will be fixed. We don't just address symptoms. Our technicians will
get to the root of the problem, and take the time to explain the complete process.
When you choose Veteran Garage Door in The Woodlands, you can rest assured that you will not get an
unpleasant surprise. Our technician will provide you with a detailed estimate and explain the entire
process to you. You must approve the work, and the charges, before we start the job. You will only pay
for the parts and labor that your specific job requires. We do not tack on hidden fees or extra service
charges.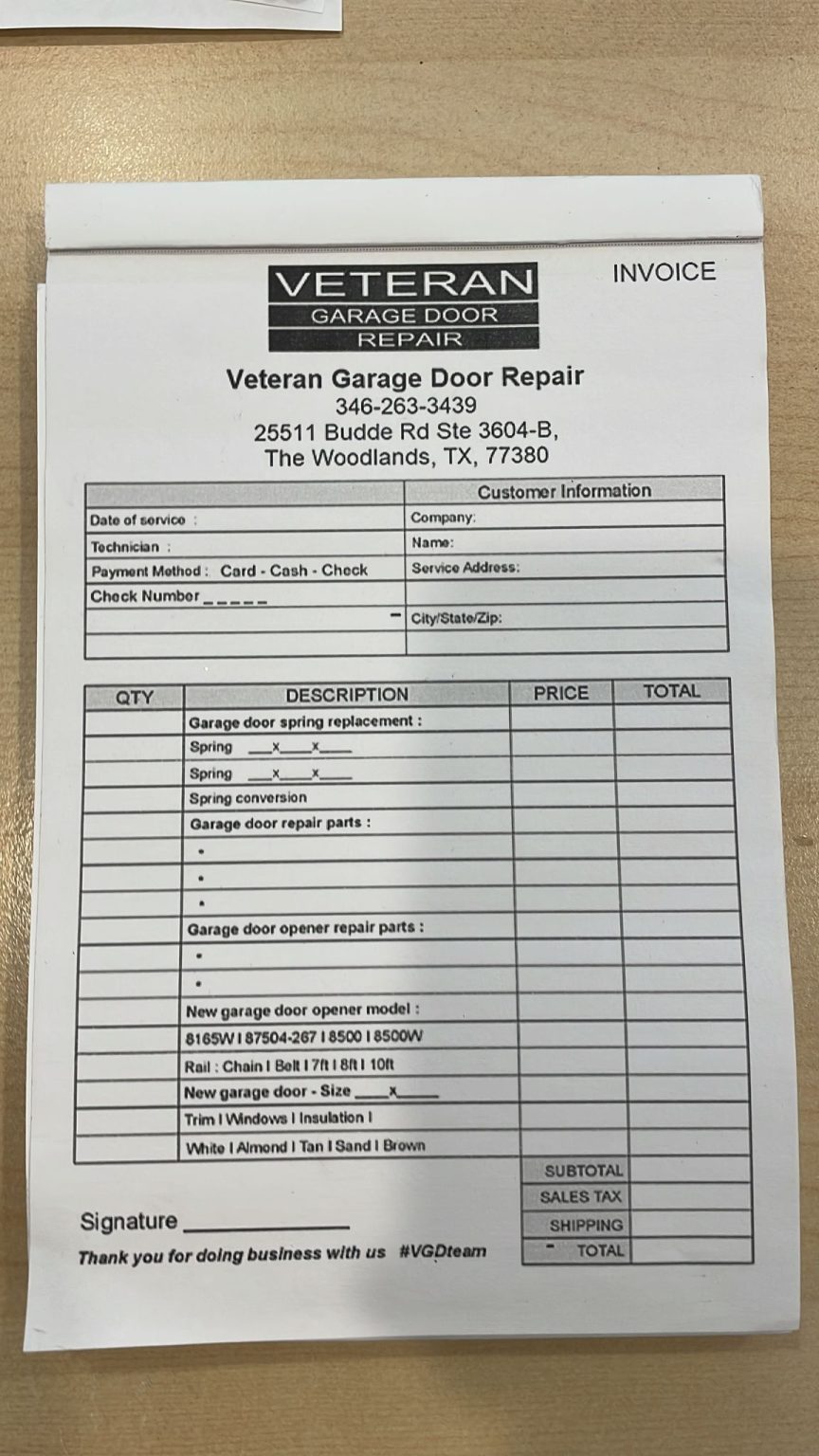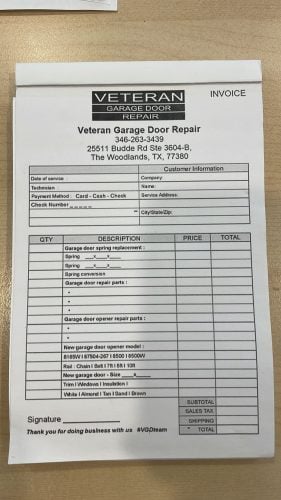 Customer Service Comes First With The Woodlands Veteran Garage Door
With a strong work ethic and hands-on experience, our technicians take their jobs seriously. With an eye
for detail, and a true concern for the customer, you can rest assured that the job will be done in a timely
manner. We also do a thorough background check on every employee, so you know that we take the
safety of you and your family seriously.
We complete reference checks and we confirm training and educational background, so you know that
you are getting a technician who can handle the task. We want to ensure the job is done correctly. Your
home is your largest investment, and we know that you want to ensure that your home, family and pets
are safe.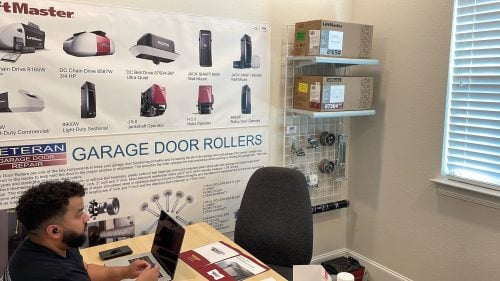 Quality Workmanship is Taken Seriously by Veteran Garage Door Repair in The Woodlands
Regardless of the make or model of your garage door or garage door opener, you can count on our team
being able to address its issues and getting it functioning up to speed. There are literally dozens of
garage door manufacturers out there, and you can count on our team to fix your garage door issues
promptly and professionally. Here are some of the garage doors that we can take care of:
 Midland
 Northwest Door
 Amarr
 Wayne-Dalton
 Lynx
 Sears
 Alumatek
 Garaga
 LiftMaster
 Dynaco
 Clopay
 Hormann
 Chamberlain
 Alumatek
 Raynor
 Midland
 Others
Garage door safety is imperative, and you can count on Veteran Garage Door in The Woodlands to
ensure that your garage door is working properly and safety. We can handle emergency repairs and
routine maintenance. We also do installation and replacement. When it comes to taking care of your
garage door in The Woodlands, expert help is only a phone call away. We are available 24/7 every day of
the year. We understand that garage door emergencies happen when you least expect them, and we
are ready when you make the call!