2225 E Belt Line Rd 301-E, Carrollton, TX 75006
Carrollton is the 23 rd most populous city in Texas. It reaches into three counties – Denton, Dallas,
and Collin. With an area of 37.43 miles and an elevation of 528 feet, the city was first settled in
1842 as Jared Ford within the Peters Colony grant. The city officially incorporated as Carrollton
in 1913, and by the late 1940s, it was a grain and gravel town. The city began growing after
World War II, and the city grew tremendously between 1970 and 1980. The Dallas suburb was
named to America's "Top 100 Places to Live" by Relocate America in 2006.
Regardless of the issues you are facing with your garage doors or garage door opener, Veteran
Garage Door Carrollton will take care of your garage door repairs quickly. We have a team of
experts who can handle any garage door problem. If your garage door just needs a small, fast fix
or faces a complex, detailed task that requires extensive knowledge, we can take care of it. Here
are a few of the problems our team can address in Carrollton:
 Bent tracks
 Sensor replacement
 Off-track doors
 Gear sprocket repair
 Garage door opener repairs
 Programming remote keypads
 Loose chain belt repair
 Programming vehicles and remote keypads for garage door openers
 Garage door cable repair and replacement
 Broken hinge replacement
Get solution for any problem with your garage door or garage door opener, call the knowledgeable experts at
Veteran Garage Door Carrollton. We have a great team of experienced technicians who have the
tools, skills, and know-how needed to get the job done.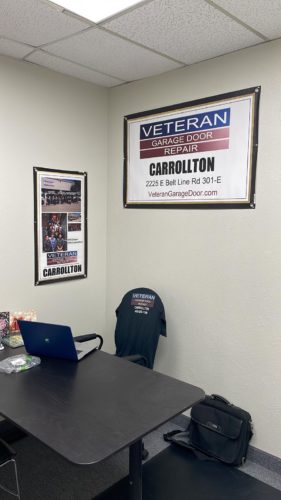 Veteran Garage Door Carrollton Stands Out As Industry Leaders
When your garage door needs service, you want to rest assured that the problems are fixed
correctly. Veteran Garage Door in Carrollton strives to the best in the business. As we work to
exceed expectations, we offer fast, friendly response times and the best possible service
available.
Emergencies require immediate attention. Veteran Garage Door Carrollton understands the
importance of arriving at your home quickly because a garage door issue can be a safety hazard.
Our technicians have undergone extensive training and have the needed hands-on experience. If
it involves garage doors, we can do it!
We take the time to understand the problem as well as your needs and expectations. We believe
in fixing it right the first time. We will not just work toward treating the symptoms, but we will
conduct an in-depth review of the situation to ensure we get to the root of the problem and fix the
actual cause of the garage door issue.
Carrollton's Veteran Garage Door uses only high-quality equipment, parts, and hardware. We do
not cut corners or offer poor quality products. When we take care of your garage door needs, you
can rest assured that it is not a quick fix, but instead, you will have your garage door fixed for
long-term results. All garage door parts as well as labor will have a warranty, and we will
double-check the job to make sure everything is working properly before we leave your home.
When a technician is dispatched to your home, you can count on the technician arriving at the
agreed upon time. Your time is very valuable, and we understand the importance of being on
time and getting the job done in a timely fashion. Our technicians are sent out on calls in a truck
that is fully equipped with everything that they could need to get the job taken care of.
Customer safety is our priority, and any new employees must undergo an extensive background
check before they are added to our team. Just remember – we are not limited in what we can do,
so you can rest assured that we service any brand and model of garage door opener and garage
door. When we fix the problem, the job is done, and it will stay fixed.
Veteran Garage Door Carrollton ensures that its team members are ready to tackle any job, so we
keep parts, hardware, and all the necessary equipment ready for easy access and fast response
times.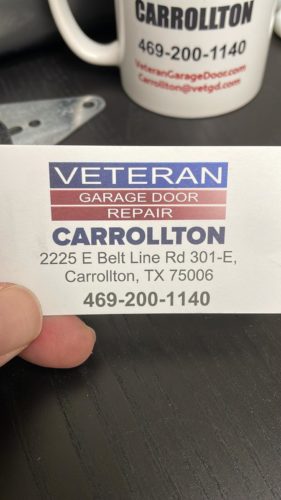 Carrollton Garage Door Repair Customer Service Is Taken Seriously
With our garage door company, customer service remains a priority. Our company incorporates
state-of-the-art technology and stays current on the newest advances available in the industry, but
we also understand that some things are better left alone, and old-fashioned customer service
cannot be surpassed. We will treat you like family.
We are an honest, hardworking team of technicians who work to resolve garage door issues. All
technicians have a strong work ethic and review every project in detail to ensure that everything
is handled the best way it can be addressed. Cookie cutter approaches do not work for garage
door problems. Instead, our technicians strive to provide you with a long-term fix. Our team
works to ensure any recurring problems are averted.
We have honest, dependable technicians who carefully review the overall situation. Our team
takes the time to explain the problem in detail and decide which way is best to resolve the matter.
You will be given a detailed estimate before work gets underway, so you understand the overall
cost involved and the complexity of the job. You must authorize the work and approve of all
charges before work gets underway.
Superior Results For All Makes And Models Of Garage Doors
It does not matter which make or model garage door or garage door opener you have, Veteran
Garage Door Carrollton will take care of the job. Some of the leading garage door brands that we
take care of include:
 Amarr Doors
 Sears Openers
 Wayne-Dalton Garage Door
 Alumatek
 Lynx
 Midland
 Craftsman
 LiftMaster
 Chamberlain
 Marantec Opener
 Garaga Doors
 Dynaco
 Northwest Door
 Clopay Door
 Hormann
 Raynor
 Other brands and manufacturers
Veteran Garage Door Carrollton has a great team of garage door experts. We take pride in our
work and strive to provide affordable results.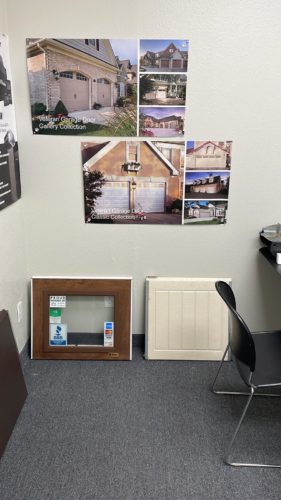 Cost-Effective Garage Door Repairs In Carrollton
When you need garage door repairs in Carrollton, call Veteran Garage Door. We offer free, no
obligation quotes, so you can see how firsthand that we make quality repairs affordable. You
only pay for the necessary services and parts, so rest assured that you will not be overcharged.
Call Veteran Garage Door Carrollton to schedule garage door service today.