A garage door is one of the crucial things in a home. It keeps your car safe from the elements and protects your belongings from thieves. But how do you know which garage door is right for you?
There are a few things to consider when choosing a garage door. The first is security. You want to ensure that your garage door is made of sturdy materials that will deter burglars. The second is insulation. Let us assume that you live in an area with extreme temperatures. In that case, you'll want to ensure your garage door is insulated to keep your car comfortable. The third is the type of material and looks you want. E.g., you might want a wooden door to match the aesthetics of your house. 
Once you've considered these factors, you can start shopping for garage doors. You can find a variety of styles and prices online or at local home improvement stores.
The Different Types Of Garage Door Materials
Steel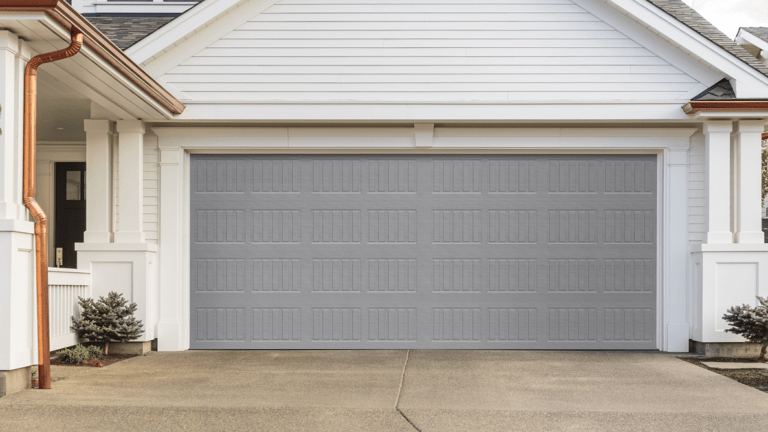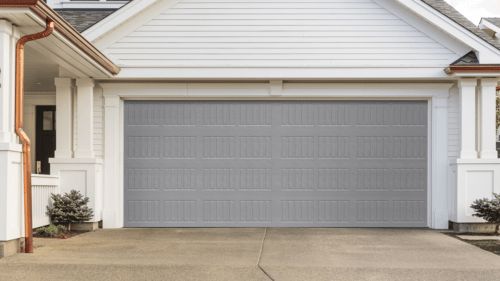 You can't go wrong with steel if you're looking for a reliable and sturdy garage door. Steel doors are made to last and withstand all sorts of weather conditions. They're also low-maintenance, so you won't have to worry about repainting or sanding them yearly.
Most new garage doors are steel supported by rigid-foam insulation—panels made of 24-ga. Steel is the strongest; most are embossed or smooth (28- and 26-ga. steel can also be used). Look for a metal door with a baked-on primer and a polyester top coat for maximum rust protection. Warranties for steel doors start at ten years; limited lifetime coverage is not uncommon.
Wood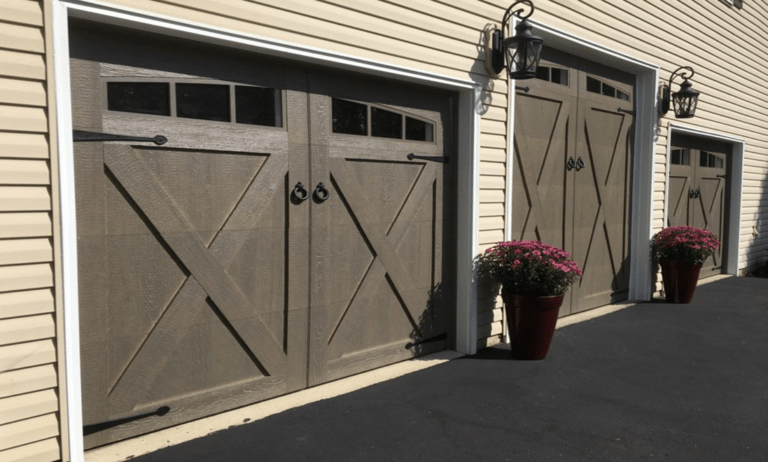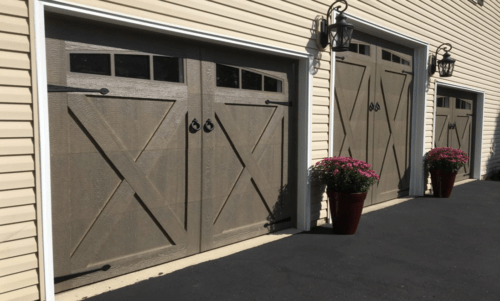 Wood has fallen from importance compared to the alternative materials in the market, mainly for its added upkeep and repeated painting. Most wooden doors are constructed with a hemlock frame and hardboard panels.
However, custom doors are often made from solid Douglas fir. The typical warranty for a factory-made wood door is one year; many custom doors are backed for 15 years.
Plastic 
Plastic garage doors are much lighter than metal ones, making them easier to open and close. In contrast to their metal and wood forms, plastic doors are virtually rot-free and corrosion-free and execute almost silently. Plus, plastic garage doors come in various styles and colors to suit any home's aesthetic.
Because of their UV-resistant additives, light-colored plastics can take in the sun without fading. Gadco's polyethylene door is made from the high-density plastic used for truck-bed liners. Overhead Door's Renata model, made of color-through PVC, offers a range of panel designs that go far beyond the basic rectangle. Plastic doors come with 20- to 30-year warranties.
Conclusion
We have mentioned three types of materials that garage doors are made of, and now it is your turn to select which one you prefer the most. Each material has its benefits and drawbacks, so choosing the right one for your home and your budget is essential. Other than the material factor, there are other factors you must keep in mind, like the area you live in, your home aesthetics, and your budget. 
Veteran Garage Door Repair
3415 Custer Rd #103
Plano, TX
75023
(972) 432-5695